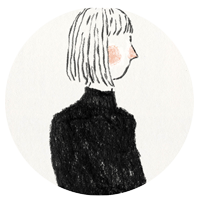 This the portfolio website of Ayaka Daimon.
Ayaka Daimon [freelance illustrator / graphic designer]


based

in Berlin, Germany
I also have four years of work experience as an in-house graphic/web designer in Tokyo and Osaka.
All motifs are inspired by everyday life. -cultures of lifestyle and nature around cities. The visual arts such as illustration or graphic design are my active vocabulary.
2011-2013 Tokyo Metropolitan University,
Graduate School of System Design, Department of Industrial Art (MA Industrial Art)
2007-2011 Tokyo Metropolitan University (BA Industrial Art)
June. 2016…ZINE bunko(Group Exhibition) Osaka, Japan
Nov. 2015…COMITIA114 Tokyo, Japan
Oct. 2015…ZINE DAY OSAKA, Japan
Nov. 2014…COMITIA110 Tokyo, Japan
Aug. 2012…Aki Ito and Ayaka Daimon Exhibition Hachioji, Tokyo, Japan
Nov. 2010…"communication of vision"(Group Exhibition) Harajuku, Tokyo, Japan
Oct. 2010…"CRAN"(Group Exhibition) Kichijoji, Tokyo, Japan
ダイモンアヤカ
illustrator / graphic designer
1988年生まれ
シンプルでありつつ、印象に残るイラストとなるよう制作しています。
大学院在籍中より、グラフィック・webデザイナーとして制作会社勤務ののち現在はフリーランスのイラストレーターとして、ドイツ・ベルリンに滞在中。
日本のクライアント様との案件も問題なく進行可能です。国内外問わず、イラスト制作のご依頼承りますので、お気軽にご相談ください。
– – – – – – – – – – – – – – – – – – – – – – – – – – – – – – – – –
2011-2013 首都大学東京大学院 インダストリアルアート学域 グラフィックデザイン研究室
2007-2011 首都大学東京システムデザイン学部 インダストリアルアートコース
– – – – – – – – – – – – – – – – – – – – – – – – – – – – – – – – –
–2016–
6月18日〜7月3日 アートカクテルさま企画グループ展「ZINE文庫」(大阪)
–2015–
10月25日 ZINE DAY OSAKA(イベント出展)
11月15日 COMITIA114(イベント出展)
–2014–
11月23日 COMITIA110(イベント出展)
–2012–
8月4日〜8月7日 (ガラス作家:伊藤亜木さんとの二人展)  atelier yorimiti (東京/八王子)
–2010–
10月1日〜10月13日 「CRAN」グループ展  zakka東京倉庫 (吉祥寺)
10月28日〜11月2日 「視覚で会話」展 thorn tree gallery (原宿)